Copywriting is an essential skill for anyone with an online presence.
But, sometimes, writing one clear sentence, one that gets your message "just right," can be as difficult as writing a book.
Sounds familiar? 😉 We feel you!
That's why we created The Wheel of Copy, a unique tool that will make copywriting much easier for you.

It's more than a helpful infographic. It's a visual thesaurus for copywriting power words and emotions that drive action.
Use it anytime you need to find powerful words that convey the emotions you want your audience to feel and to mix and match different emotions in your copywriting.
Emotions add extra context, meaning, and flexibility to your copywriting.
If you can connect the right benefits with the right emotions, you can create copy that connects you with your readers on a much deeper level.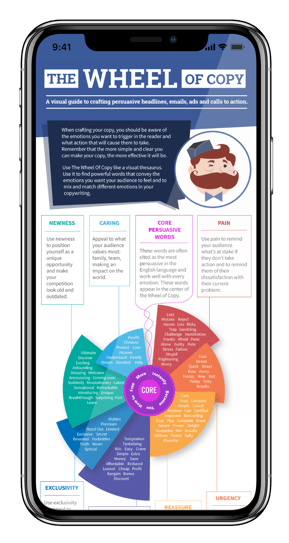 The Wheel Of Copy helps you:

✅ Write copy that drives results
✅ Quickly come up with writing ideas
✅ Transform emotions into powerful stories that drive action
✅ Split test different emotions to get the best results
Stop struggling to find the words.
Download the Wheel of Copy now and start writing compelling copy faster and easier than ever.
Are you looking for some strategies for how to use it as well? Just click here!